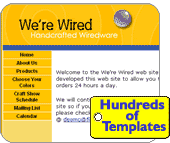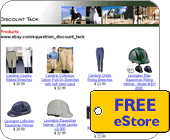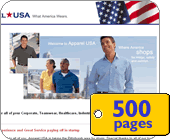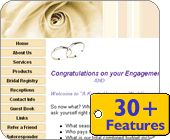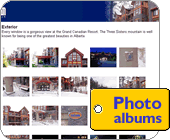 Perfect for Any Business
• Retail Stores
• Service Businesses
• Home Businesses
• Franchises
• Professionals
• Distributors
• Manufacturers
• Sales People
• Associations
• Entrepreneurs
• Clubs and Groups
PLUS... You Get Full Time Support
(don't pay a silly monthly fee for this – with BigPixie it's FREE!)
We
want to ensure you get the website you have always dreamed of.
So if you ever have a question, you have the comfort of knowing that a certified BigPixie designer will be immediately dispatched to help you with your site. My BigPixie designers are there to support you in any way you require.

At last! No designing...
and no geeky programming...
In less than five minutes you can have a website for your business or personal site LIVE on the internet.
Yes, just 5 minutes from now.
Try it - take a
Even if you're totally new to the internet ... never designed a thing ... and a complete beginner -- you can have a professional looking website right now... GUARANTEED.
People just like you are now using BigPixie to build professional websites, complete with web pages, photo albums, email, links and 27 other features without ever having built a website before.
"My staff laughed when I told them I was going to make our company website myself, but you should have seen their faces when it was done!"
Gerod Floyd, Contractor

"How good is Bigpixie.com! It's so simple. I am blown away at how easy it is to use. HTML ... what the hell is that? You don't need to know.
If you can type, you can use BigPixie. A program like this saves me time and money, and helps me service my customers 10 fold - and if my customers are happy it means I am happy. Thanks Brett"
Drew Blackman
San Souci, NSW - 0423 288 212
"My web site pages are as good or better than some of my friends who are in the same type of business. They also are amazed especially when one considers they paid upwards of $6,000.00 for their sites. No Kidding!
Your support is great! My site is great! I am happy."
Dale McIntosh
AMJ Funding Group

Now YOU can have a website with ALL the Cool Features you see on the Big Corporate sites for just a fraction of the price!
Websites offered by professional designers and programmers cost between $2,500 and $15,000.
The problem is that once you get your site, you are stuck with a site that is outdating itself everyday it's online.
And designers like to work around THEIR schedule – not yours. So if you need a quick change, you have to wait till they can do it.
So if you don't want to be held hostage by a designer's high update fees ... their busy schedule ... or pay thousands in design costs, then you need a way to update your site by yourself.
BigPixie is the brand new ... and ONLY ... solution that allows you to have a professional designer-quality website and at the same time gives you the ability to easily update it whenever you require.

© Hot Copy Pty Ltd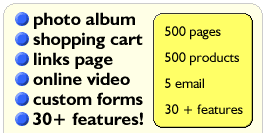 Features
Over $1000 worth of features are included free with BigPixie.
Screenshots
A sampling of 30 sample websites you can see built with BigPixie.
Benefits
Top 10 reasons BigPixie users give for choosing BigPixie.
How It Works
Shows you the 3 steps to get started with your site. Screenshots.
Shopping cart
With 500 products and lots of options, BigPixie shopping cart delivers.
Easy Photo album
Post up to 500 photos and organize into many photo albums.
Easy Links Page
You can set up a links page to useful resources within minutes..

10 Compelling Reasons Why BIGPIXIE Is The World's Best Web Design System
Is it Easy? YES!

Is it Fast? YES!

Is it Affordable? YES!

Do you get a Free Trial? YES!

Is there Free Support? YES!

Is it Fun? YES!

Is it Flexible? YES!

Is it Powerful? YES!

Is it Full Featured? YES!

Is it Guaranteed? YES!
Your BigPixie website contains everything you need to be successful online.
"Most people don't truly understand the value they're getting, it would cost thousands to get a site that performs to the same level. Your websites are a true bargain!"
Wendy Lau, Web Designer